FootJoy Golf Shoe Fitting Guide
ARE YOU WEARING THE RIGHT SIZE SHOES?
Size Matters. Testing has shown a 6 - 21% increase in performance for people wearing properly fit golf shoes. Simple enough, right? Well, did you know more than 70% of people are wearing the wrong size?
How do you know if you're right?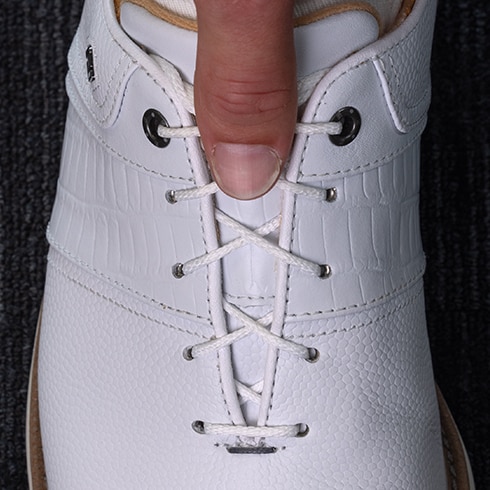 Rule of Thumb
The opening at the top of your shoes should be about a thumbs width apart. Other factors, like arch height can affect this, but it is a good place to start.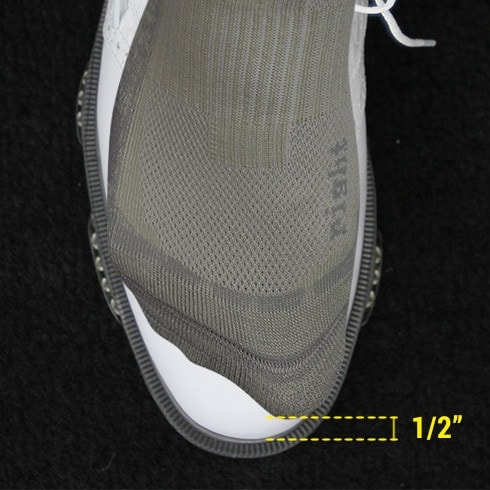 Longest Toe
Leave about ½" of space between your longest toe and the end of your shoe.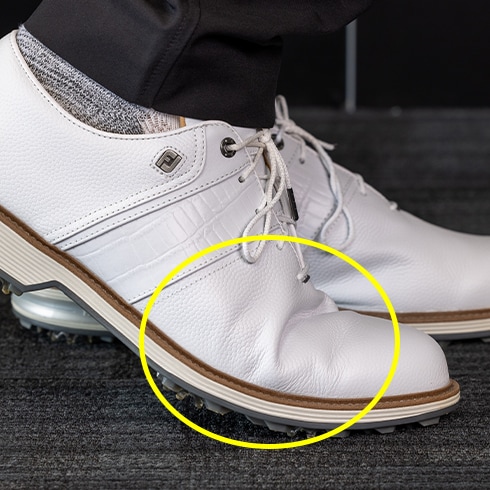 Flex Point
When flexed, the break of the shoe should fall perfectly with the flex of your forefoot.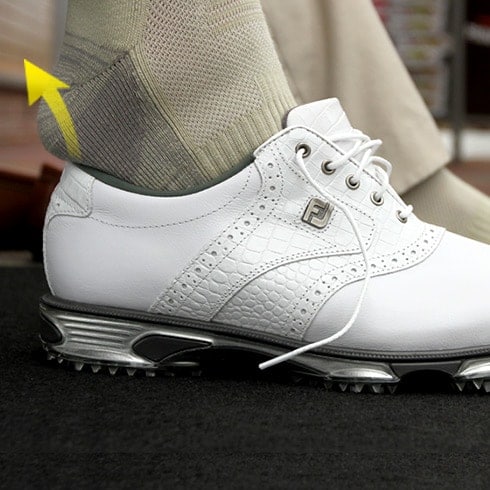 Listen
If the shoe's volume fits your foot, then you may hear a whoosh sound when you insert your foot.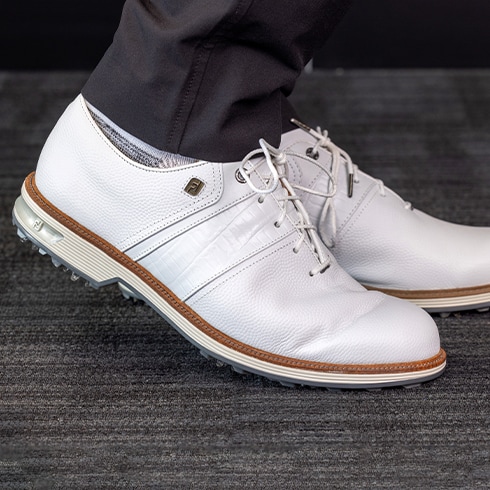 Test Drive
There should be no excess movement in the shoe when you walk.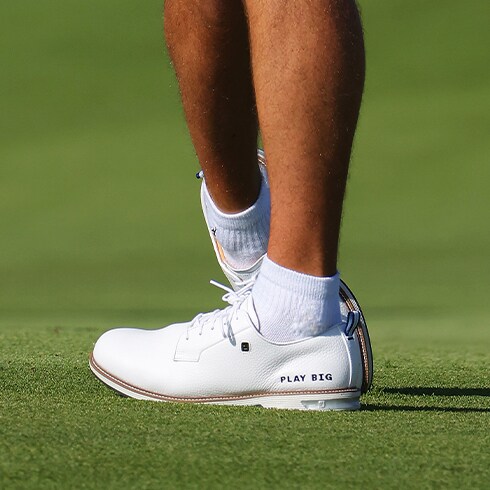 Swing Test
Simulate your golf swing and make sure nothing feels too loose or too tight.
GETTING MEASURED
Things to know before going to a fitting:
•Your feet may swell over the course of the day, so you should always get measured towards the end of the day.
•Wear an appropriate sock. If you're getting fit for golf shoes, you should bring along the socks you usually wear on the course. Why pair a performance sock with a performance golf shoe?
•Sit down when being fit, with your leg at a 45 degree angle. Standing will create downward pressure, spreading out your feet and toes. An accurate fit is "weightless".
•Your size will change over the course of your life. It is not uncommon for feet to flatten and widen as we age.
•Don't look at the size on the box, let your feet tell your brain how they feel.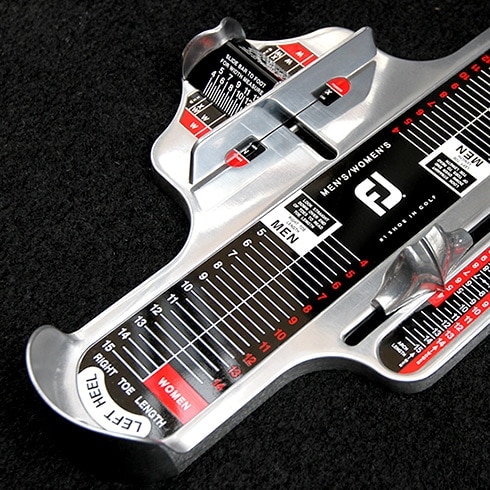 Brannock Devices
Brannock Devices have been the shoe fitting standard for more than 70 years and are still the best way for determining foot length, width and arch length. But the Brannock Device is ideally just one component in a proper shoe fitting.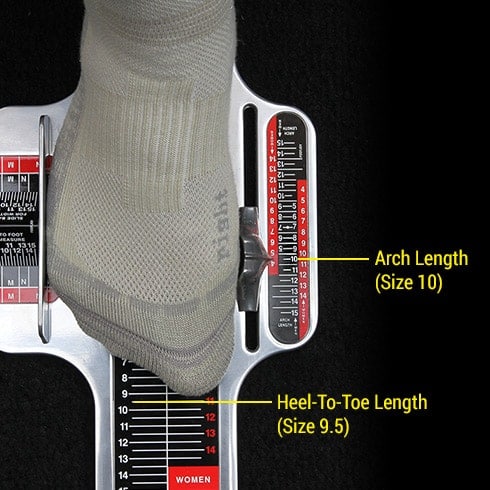 Arch and Foot Length
Where arch length and heel-to-toe length differ, you generally want to take the bigger of the two sizes. This is to ensure that the ball of your foot aligns properly with the flex point of the shoe.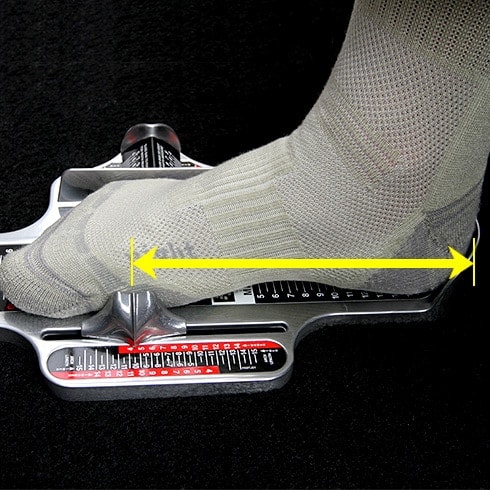 Arch Length (heel-to-ball measurement)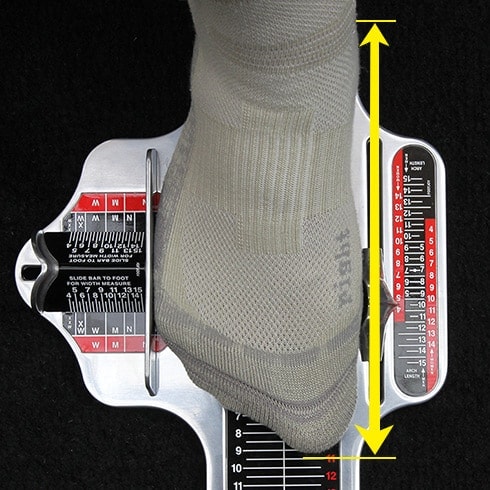 Heel-to-Toe length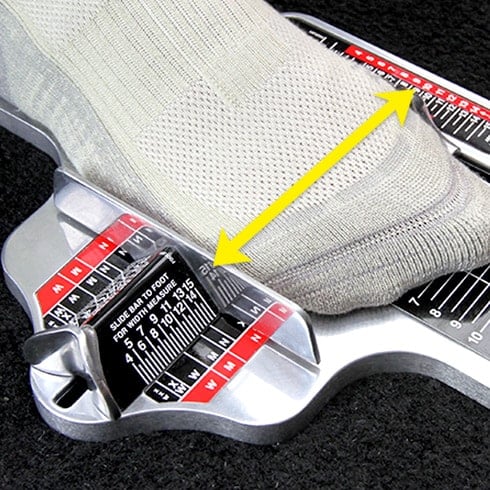 Width
WHY THE FJ FIT IS THE BEST FIT
Sole Dedication
Only FJ focuses solely on golf, so our products enhance the golf experience. It is our sole passion.
The Most Sizes in Golf
FootJoy offers more sizes than any other manufacturer, you can explore the full range in the custom MyJoys Golf Shoes
Rigorous Testing
FJ products endure extensive testing to ensure every shoe is made to fit, perform, support and withstand whatever the player encounters during the round.
Tour Validation
Week-to-week, year-to-year and tour-to-tour, more of the best players in the world wear FJ shoes than all other brands combined.
BOA Closure System
The BOA Closure System pulls the foot down and back into the shoe for the most precise fit available. FJ was the first golf company to work with BOA and is the only brand licensed to offer the exclusive, premium "heel mount".
Materials/Technology
FJ is the leader in golf shoes and golf shoe technology through a commitment to offering every player a shoe that best suits their game and style.
Size Consistency
FJ shoes are sized consistently across models, but the feel could be different. Take a look at the Fit vs. Feel page for more.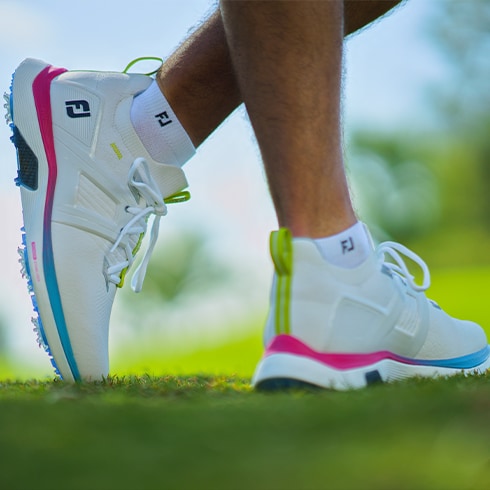 Comfort
Proper fit reduces friction, prevents slipping -- which in turn, prevents blistering -- ensuring your feet remain comfortable throughout your round.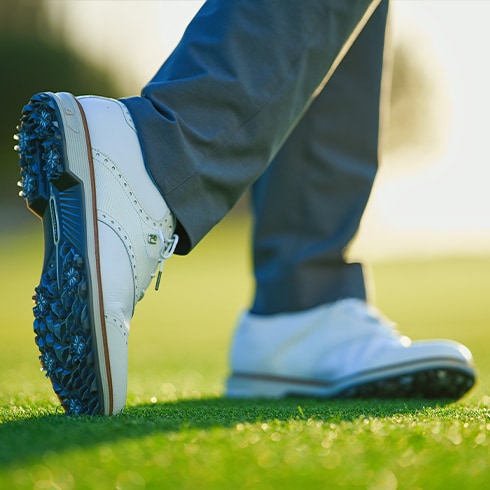 Appearance
When a shoe fits, it holds its shape. Reduced friction reduces wear keeping your shoes looking better longer.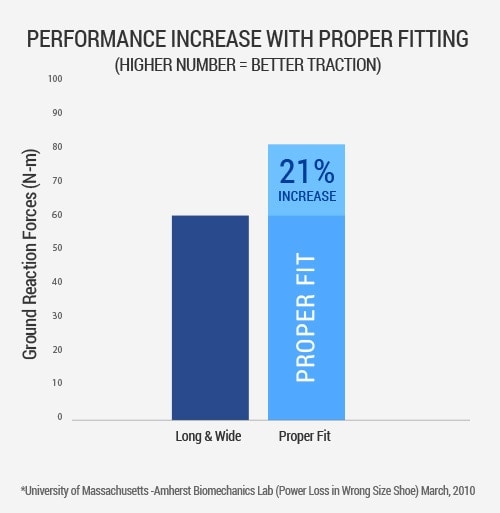 Performance
Wearing the proper size can increase your swing force as much as 21% over wearing a poorly fit shoe.
FIT VS. FEEL
Once you are properly fit, any shoe of the same size across the FootJoy line should fit you, but different shoes afford a different feel. Shoe shapes, determined in part by the lasts they are created on, will vary with the design of the shoe. For example, a shoe with a 'V' throat may feel snug around the toes and over the top of the foot. Some people will prefer a snug feel. Conversely, a shoe with a U-throat or Blucher opening will afford more room in the in-step area of the shoe, best for those with high arches. Both may fit equally well, but feel is subjective. Listen to what your feet are telling you. You know what feels good to you.
When trying on shoes, be sure to talk to your fitter about specific elements that you like or dislike about the feel so that they can better guide you to a shoe that not only fits you but also feels the way you want it to.
Elements of the shoe design that affect feel: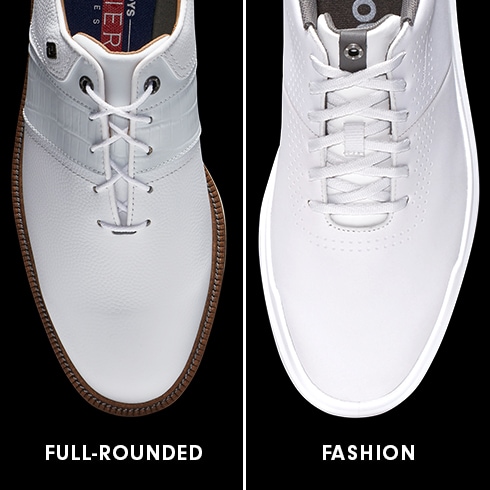 Shape
The shape of the shoe, for example, toe shape (full-rounded or fashion) will affect the feel of the shoe.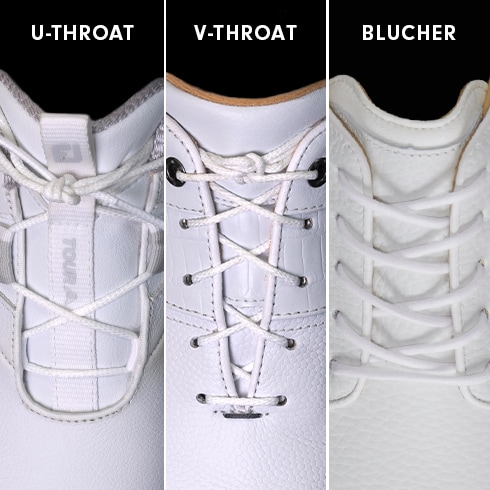 Opening
The opening of the shoe may affect the feel of the shoe. A blucher affords the widest opening, a V-throat the snuggest.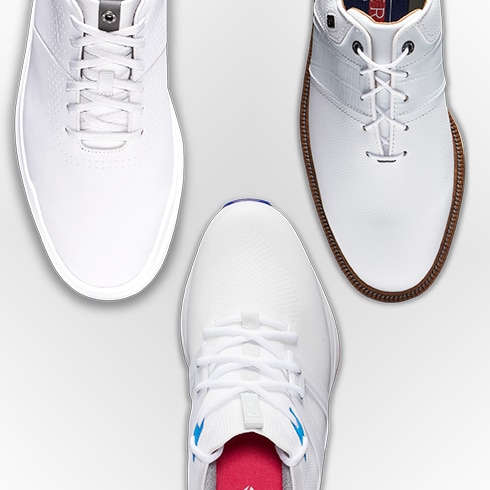 Linings
Shoe linings can also affect feel. Some people prefer the smooth feel of a leather lining, others may prefer fabric linings.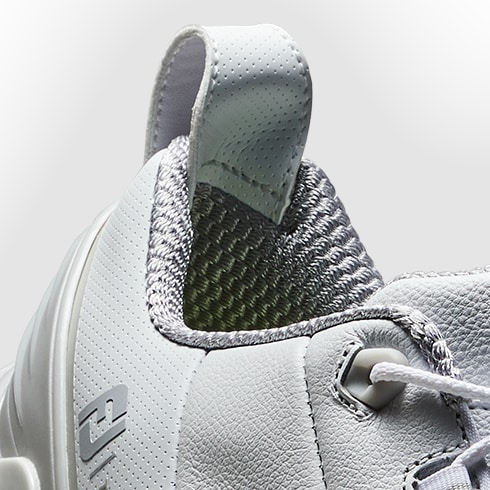 Molded Foam
Many FootJoy models offer molded foam around the heel and/or the tongue to provide a snug feel.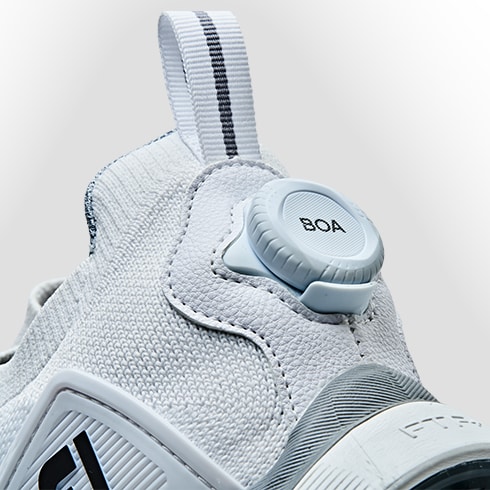 BOA
For people who want to remove any movement in their shoe, BOA offers the most precise fit for the most snug feel.
SIGNS YOU MIGHT BE WEARING THE INCORRECT SIZE
Shoes should fit comfortably from the first wear and should never need a "break in" period. If they do, you might be one of the 70% wearing the wrong size.
How can you tell?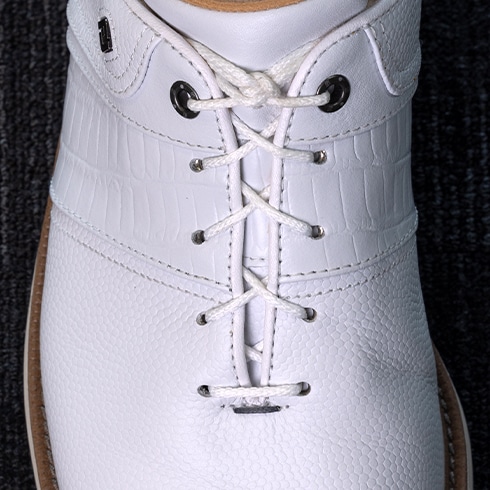 Eyelets too close
Shoe is too wide.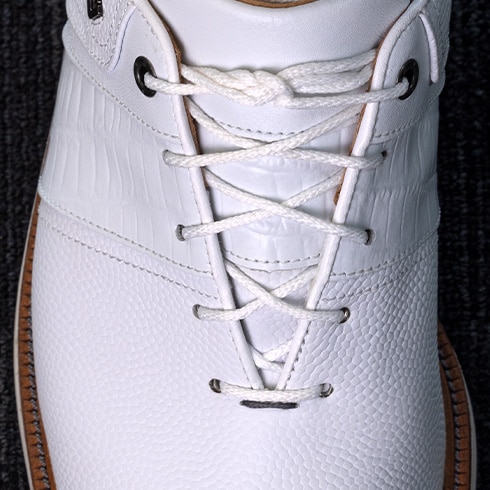 Eyelets too far apart
Shoe is too narrow.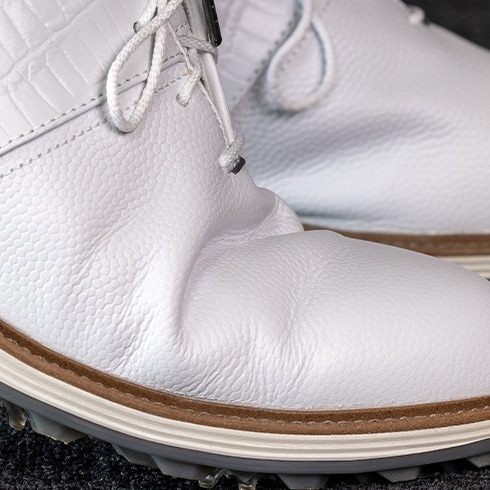 Excessive bunching
Shoe is too wide and/or too long.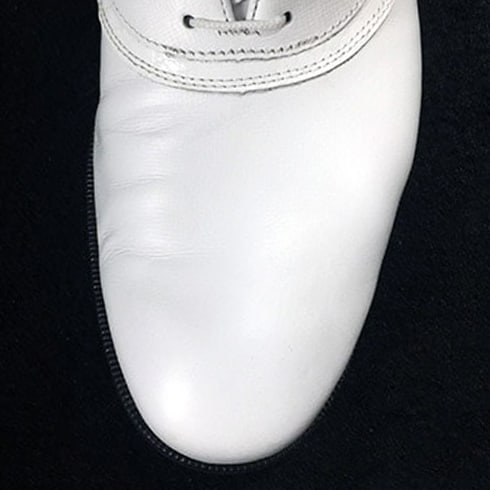 Stretching around the toes
Shoe is too narrow.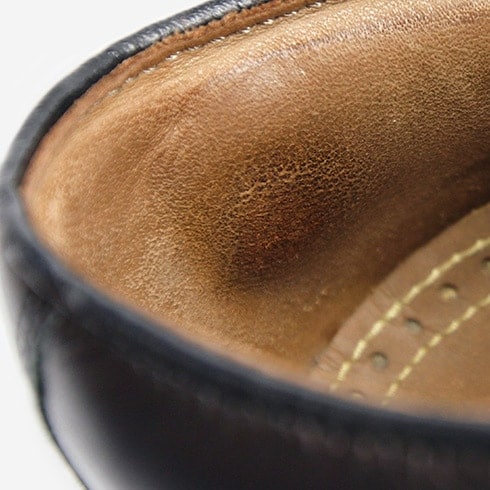 Wear in the heel pocket
Your foot is likely moving within a shoe that is too big.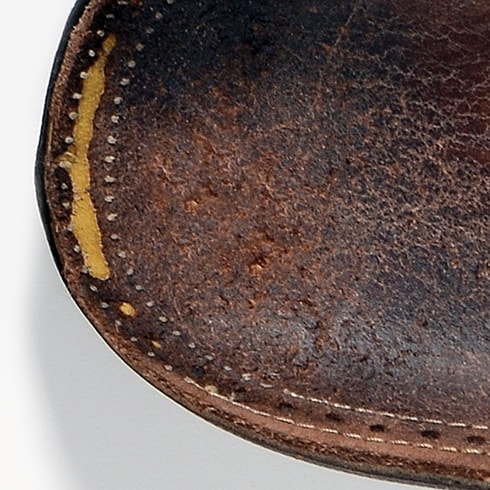 Wear on the Fit-Bed® insole
Your foot is likely moving within a shoe that is too big.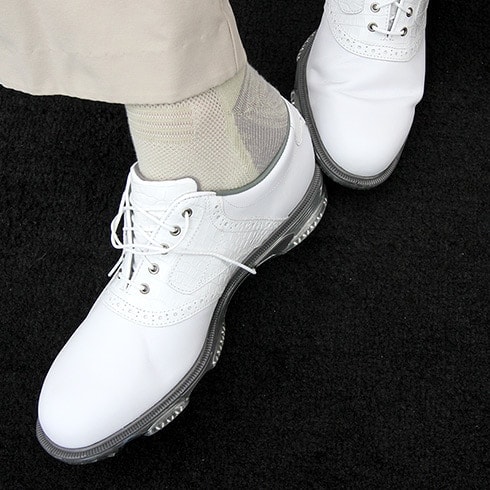 Can you slip it off?
If you can slip your shoe off without unlacing it, it is too big.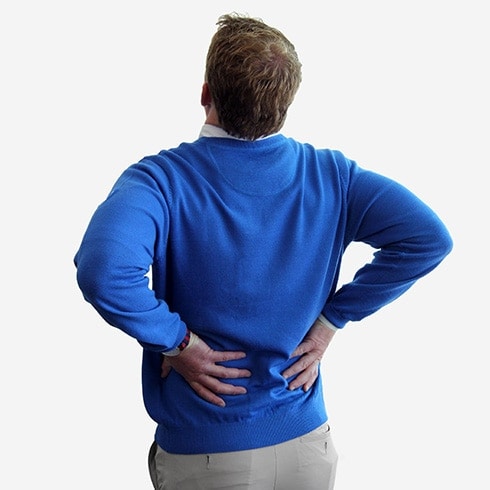 Physical discomfort
In addition to blisters, poor fitting shoes can contribute to feelings of fatigue in your legs or back pain.
WHAT IF YOUR FEET ARE DIFFERENT SIZES?
90% of people have feet that are different sizes. Always have both feet measured and fit to the larger foot.
FootJoy is the only brand in golf to offer different sized shoes in the same pair. Available through our custom MyJoys Golf Shoe collection.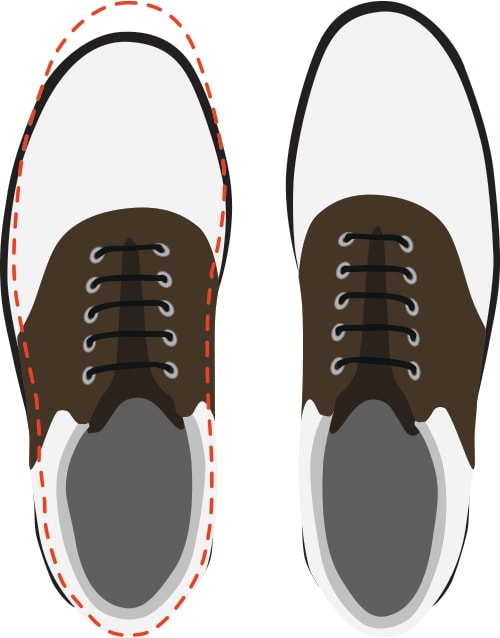 If your feet are more than one size different in length or two sizes in width, you may need to order different sizes for each foot.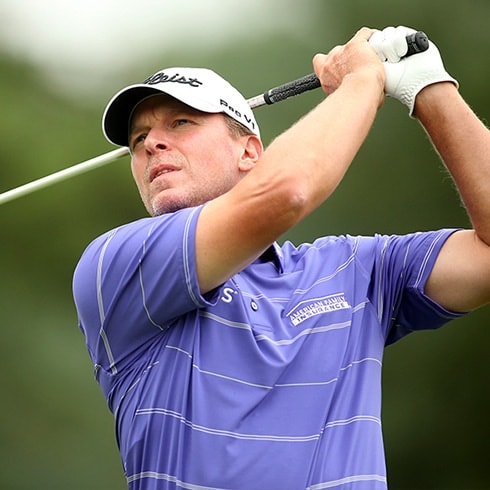 Steve Stricker wears uneven pairs with MyJoys. His left foot is an 11 Medium while his right foot is an 12 Narrow. You too can order this online to enjoy your best ever fit.
THE WIDTH OF YOUR FOOT
The most common mistake that leads to wearing the wrong size shoe is neglecting to measure for foot width.
While most purchase and wear shoes that are medium, or "regular" width, nearly 40% of people should be wearing shoes that are narrower or wider than they believe.
You don't need to compromise on fit, FootJoy offers the most width options in Golf:
•From N to XW for Men
•From N to W for Women
How do I know if I'm wearing the wrong width?
Rule of Thumb: Top eyelets should be roughly a thumb's width apart.
It is important to note that other factors, such as arch height, might affect this, but it is a good guideline to consider.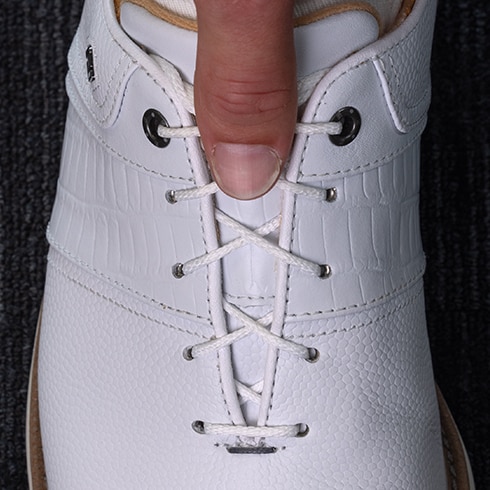 Correct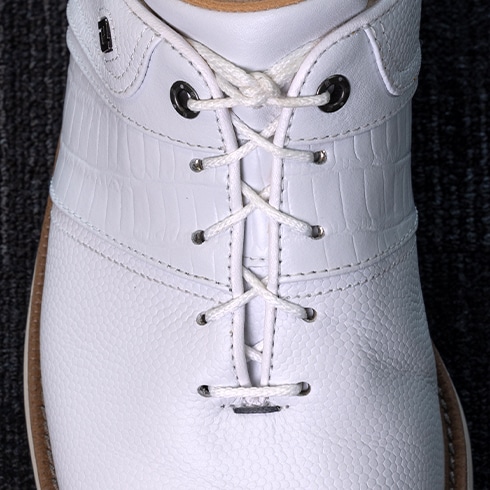 Too Close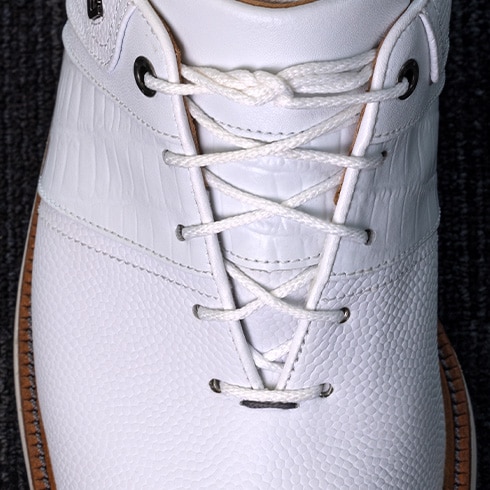 Too Far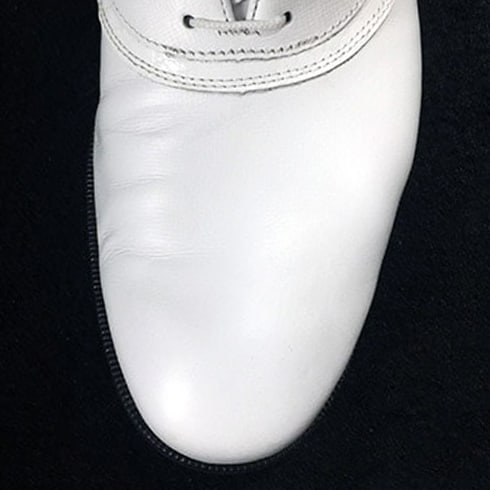 Stretching
A sign that your shoe may be too narrow.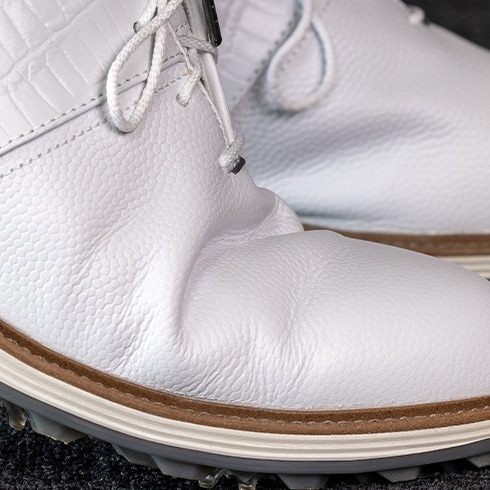 Extra Material
A sign that your shoe may be too wide.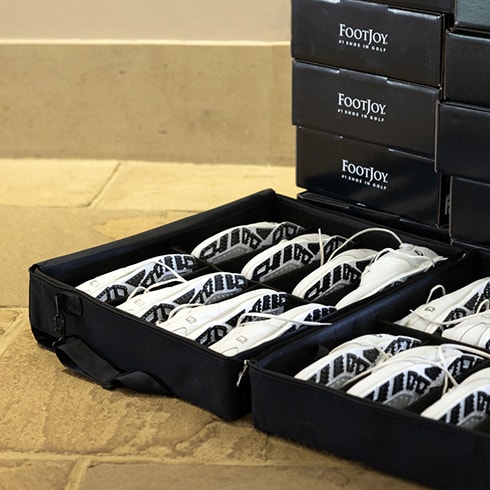 Sizing Up
The most common fit problem we see is when people go up a size because a shoe feels tight. Try a wider width before going up in size.
THE SHAPE OF YOUR ARCH
While a Brannock Device will give you the important arch length measurement, it can't tell you the shape of your arch. How do you know?
The Wet Test
In bare feet, lightly wet the soles of your feet and then step on a blank piece of heavy paper (such as a shopping bag). The wet footprints you leave on the paper will show you your arch shape.
Low Arch
A Flat or Low arch will leave a print of all or nearly all of the bottom of the foot.
Normal Arch
A Normal or Medium arch will leave a print of your heel and forefoot connected by a slightly narrower band.
High Arch
A High arch will leave a print with a much narrower connecting band.
Accommodating High Arches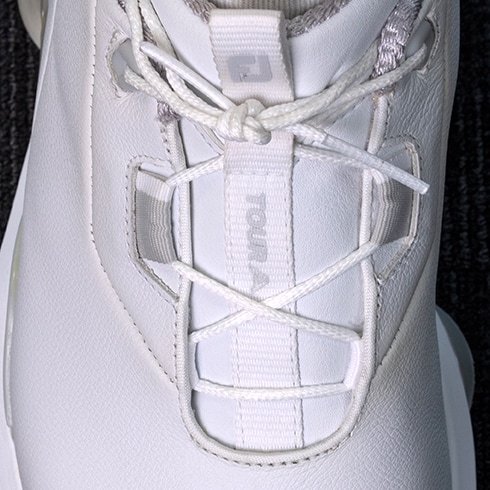 U-Throat
A U-throat opening may be easiest to put on.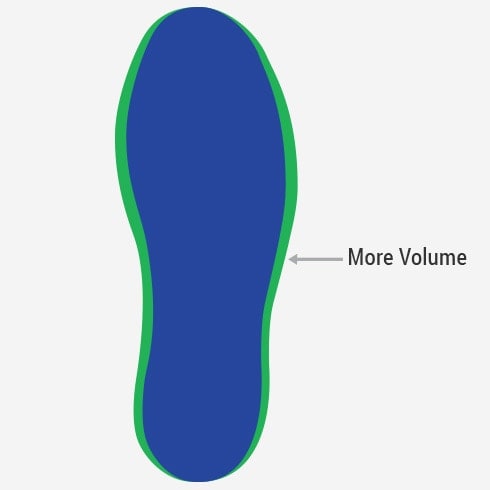 Wider
You may want a wider shoe for more volume.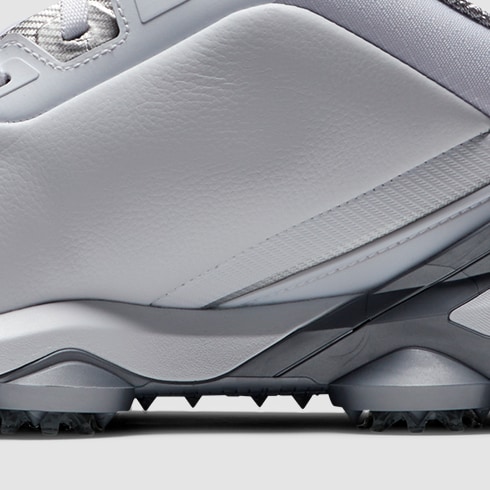 Arch Support
You want to feel the support under your arch.
Accommodating Low Arches / Flat Feet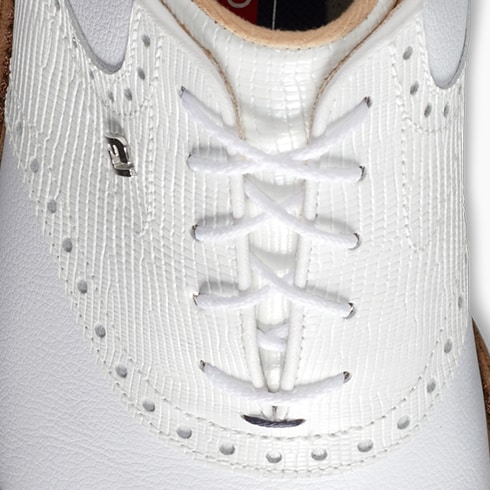 Shoe Type
A lower-volume shoe with a V-throat opening may be right for you.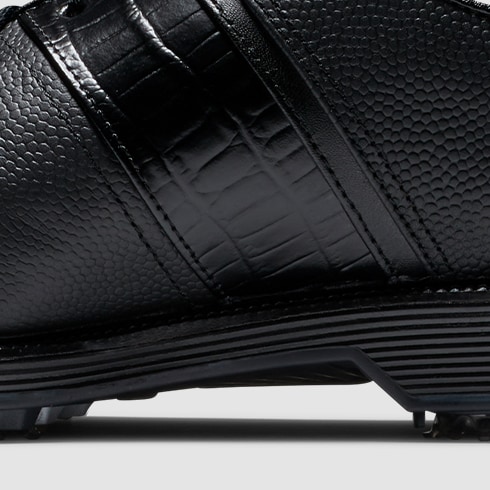 Arch Support
Look for shoes with good stability in the midsole.
Your arch shape may change. Typically, people's arches become flatter as they age.
Finding shoes to accommodate different arch shapes is another thing that your professionally trained fitter should be able to assist you in.
COMMON FOOT PROBLEMS
If you are experiencing regular discomfort (or pain) in your back, legs or feet while golfing, FootJoy recommends consulting your doctor. It is not uncommon for golfers to assume that their back or leg pain is caused by their swing (or not golfing enough!). We often hear in fittings that consulting a podiatrist and changing to a shoe that offers the right support relieves their discomfort. Getting properly fit to custom orthotics can also help alleviate pain (see Orthotics section).
Pronation
Pronation is simply the natural "roll" of your foot as you walk, but over-pronation can cause pain when you walk, as well as other issues such as back pain. Over-pronation is sometimes associated with flat or low arches. If you have been told by a doctor that you over-pronate follow your doctor's shoe recommendations, but we would suggest you try a shoe with good midsole support, like Premiere Series or Pro|SL.
Plantar Fasciitis
For people who have been diagnosed with Plantar Fasciitis we strongly recommend consulting your Podiatrist for their recommendations before selecting a shoe. But in our experience in fitting golfers, we suggest you look for shoes with:
•Firm heel support
•Strong arch support
•Minimal midsole torquing (midsole is unable to twist or bend)
•Flex only at the ball of the foot
•Secure lacing (a BOA lacing system might be optimal)
We would suggest trying Premiere Series or Pro|SL.
ORTHOTICS
Orthotics are shoe inserts for people with high or low arches or for medical conditions such as plantar fasciitis. FootJoy golf shoes offer more support than running shoes. Even if you require orthotics for your running shoes, you may find that you do not need them for golf.
The most important factor to consider when you want to use orthotics with your golf shoes is Fit-Bed® insole width. The Fit-Bed® insole is part of the shoe design. If your orthotics are thicker than the Fit-Bed® insole, you may not have enough volume in the shoe for your foot. If your orthotics are thinner than the Fit-Bed® insole, then you might not have enough cushioning.
To ensure the best fit with your orthotics, FootJoy strongly recommends that you either:
•Bring your orthotics with you to be fit by a trained professional.
•Bring your properly fit golf shoes with you to your doctor to create orthotics specifically to work with your shoes.
Men's Shoe Size Conversion Chart
| US | UK | EUR | JP | KR | Centimeters |
| --- | --- | --- | --- | --- | --- |
| 6 | 5 | 38 | 24 | 240 | 24.0 |
| 6.5 | 5.5 | 38.5 | 24.5 | 245 | 24.5 |
| 7 | 6 | 39 | 25 | 250 | 25.0 |
| 7.5 | 6.5 | 40 | 25.5 | 255 | 25.5 |
| 8 | 7 | 40.5 | 26 | 260 | 26.0 |
| 8.5 | 7.5 | 41 | 26.5 | 265 | 26.5 |
| 9 | 8 | 42 | 27 | 270 | 27.0 |
| 9.5 | 8.5 | 42.5 | 27.5 | 275 | 27.5 |
| 10 | 9 | 43 | 28 | 280 | 28.0 |
| 10.5 | 9.5 | 44 | 28.5 | 285 | 28.5 |
| 11 | 10 | 44.5 | 29 | 290 | 29.0 |
| 11.5 | 10.5 | 45 | 29.5 | 295 | 29.5 |
| 12 | 11 | 46 | 30 | 300 | 30.0 |
| 12.5 | 11.5 | 46.5 | 30.5 | 305 | 30.5 |
| 13 | 12 | 47 | 31 | 310 | 31.0 |
| 13.5 | 12.5 | 48 | 31.5 | 315 | 31.5 |
| 14 | 13 | 48.5 | 32 | 320 | 32.0 |
| 14.5 | 13.5 | 49 | 32.5 | 325 | 32.5 |
| 15 | 14 | 50 | 33 | 330 | 33.0 |
| 15.5 | 14.5 | 50.5 | 33.5 | 335 | 33.5 |
| 16 | 15 | 51 | 34 | 340 | 34.0 |
Men's Width Sizing Chart
| Common Sizing | Alpha Sizing |
| --- | --- |
| X Narrow (XN) | 3A, 2A |
| Narrow (N) | A, B, C* |
| Medium (M) | C*, D, E |
| Wide (w) | E, 2E |
| X Wide (XW) | 3E |
* A narrow C will generally take a narrow, while a wider C will likely take a medium
Women's Shoe Size Conversion Chart
| US | UK | EUR | JP | KR | Centimeters |
| --- | --- | --- | --- | --- | --- |
| 5 | 3 | 35 | 22 | 220 | 22.0 |
| 5.5 | 3.5 | 36 | 22.5 | 225 | 22.5 |
| 6 | 4 | 36.5 | 23 | 230 | 23.0 |
| 6.5 | 4.5 | 37 | 23.5 | 235 | 23.5 |
| 7 | 5 | 38 | 24 | 240 | 24.0 |
| 7.5 | 5.5 | 38.5 | 24.5 | 245 | 24.5 |
| 8 | 6 | 39 | 25 | 250 | 25.0 |
| 8.5 | 6.5 | 40 | 25.5 | 255 | 25.5 |
| 9 | 7 | 40.5 | 26 | 260 | 26.0 |
| 9.5 | 7.5 | 41 | 26.5 | 265 | 26.5 |
| 10 | 8 | 42 | 27 | 270 | 27.0 |
| 10.5 | 8.5 | 42.5 | 27.5 | 275 | 27.5 |
| 11 | 9 | 43 | 28 | 280 | 28.0 |
| 11.5 | 9.5 | 44 | 28.5 | 285 | 28.5 |
| 12 | 10 | 44.5 | 29 | 290 | 29.0 |
Junior Boy's Shoe Size Conversion Chart
| US | UK | EUR | JP | KR | Centimeters |
| --- | --- | --- | --- | --- | --- |
| 1 | | | 19 | 190 | 19.0 |
| 2 | 1 | 32.5 | 20 | 200 | 20.0 |
| 3 | 2 | 34 | 21 | 210 | 21.0 |
| 4 | 3 | 35 | 22 | 220 | 22.0 |
| 4.5 | 3.5 | 36 | 22.5 | 225 | 22.5 |
| 5 | 4 | 36.5 | 23 | 230 | 23.0 |
| 5.5 | 4.5 | 37.5 | 23.5 | 235 | 23.5 |
| 6 | 5 | 38 | 24 | 240 | 24.0 |
| 6.5 | 5.5 | 38.5 | 24.5 | 245 | 24.5 |
| 7 | 6 | 39 | 25 | 250 | 25.0 |
Junior Girl's Shoe Size Conversion Chart
| US | UK | EUR | JP | KR | Centimeters |
| --- | --- | --- | --- | --- | --- |
| 1 | | | 18 | 180 | 18.0 |
| 2 | | | 19 | 190 | 19.0 |
| 3 | 1 | 32.5 | 20 | 200 | 20.0 |
| 4 | 2 | 34 | 21 | 210 | 21.0 |
| 5 | 3 | 35 | 22 | 220 | 22.0 |